Weekly Class – Smart Farming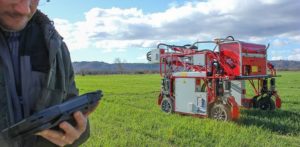 (Image Source:  www.smart-akis.com)
Hi everyone! Here is our weekly class (25/09 – 29/09) (video, questions and opinion).
"Weekly Class – Smart Farming". English Level = B1 & B2.
(Watch the video) http://www.bbc.com/news/av/business-41362333/smart-farming-s-eye-in-the-sky
Video – Questions (watch the video from 0:00m to 2:00m)
The area is known for two things, lemons and what else?
Rickton farm exports its lemons to which part of the world?
Why did Aerobotics stop building their own drones?
Aerobotic´s Chief Executive says they are currently experiencing a draught, what three ways does their motion analysis help farmers?
Farmers will be able to operate their drones using what device?
What is the problem of being based in Africa?
What's your opinion about the video? 
Audio record your opinion (1-2 min) and get feedback from me, Christopher Wright, your Business English Trainer.
Email it to me at "chris@englishtco.com" with the subject "Weekly Class – Smart Farming".
Have a good week!
¡Espero que la clase semanal sea útil para tu inglés de negocios, Christopher!
————–
¡Para clases de inglés in-company contáctanos ahora!
————–
Answers:  1) vineyards/wine d   2) the middle east    3) off the shelve drone models making money   4) manage irrigation, correct irrigation and find problems early   5)  their smart phones  6) they don't have access to good mobile phone coverage