Meetings In English – How To Answer Hostile Questions In English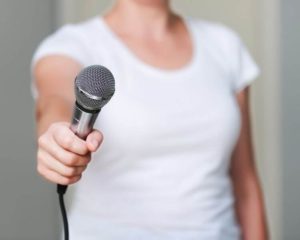 How To Answer Hostile Questions In English. We've all faced difficult questions in a meeting or presentation and in this post I give you my top tips and some English expressions to help you.
Problem
Imagine the work situation. You and your team have been working hard on an important project and you've been asked to give a progress report. And there have been several rumours you need to address…
the project is running late and will be behind schedule
costs are rising and the project will be over budget
the results are unclear
ROI will only be 6% (forecast was 12%)
In this scenario you are likely to face hostile questions from a difficult audience. And you will need to keep calm and be professional when speaking. So what can you do?
Solution – My Top Tips
Keep these simple tips in mind:
prepare your answers and practice them by audio recording yourself twice.
be diplomatic, confident and firm when speaking.
you can disagree strongly, but avoid saying 'no' directly.
keep your answers simple and concise.
learn other professional ways to say "no".
Useful Business English expressions
In these three conversations, I give expressions which are other ways to say "no" that are simple and professional. So you can project a calm and professional image when speaking in English.
Expressions – not yet,  hopefully not,  not necessarily, yes, I know, not as a rule, not at all, not really, granted, not quite, not entirely, true, to some degree.
Let's get started:
Conversation 1
You have to admit that this has been an internal communications disaster.
Not at all. The team has done an excellent job. It was a tough project.
But wouldn't it have been better if you'd outsourced the creative communication work?
Not really. For one thing, it would have cost three times more.
But it was you who said we should spend more on "creative work".
Granted. But the budget was limited and it wouldn't have stretched to include it. 
So you're happy with the way things went?
Not entirely, and there are definitely things to improve, however I also think there were one or two positives.
Conversation 2
Have you reached an agreement with Malay Constructions yet?
Not yet. There are still some minor things we need to discuss.
But you've had almost 4 months to discuss them.
True. Four months seems a long time but that is the standard waiting time when dealing with Malaysian construction companies because of Government 'red tape'.
Mm, hasn't the fact that we have good contacts at Government level helped at all?
To some degree, but we still need to go through the right bureaucratic channels. We hope to get a final agreement in October.
October! Won't that cause big problems for the launch.
Hopefully not. We've managed to reorganise and reschedule most things and it should work.
Conversation 3
So have we lost all the new client files from the last month when the network went down?
Not necessarily. Just the new clients from the last two weeks.
I see. I suppose it's too late to recover that information, isn't it?
Not quite. I've spoken to IT and there should be a way of retrieving the information.
What I don't understand is the ERP program did not do a back up?
Yes, I know. It is standard procedure.
Does this happen a lot?
Not as a rule. It was just one of those unfortunate things.
I hope this helps you with your job and professional career, Christopher!
——
Sources: 'English With A Twist' Shanthi Cumaraswamy Streat and Presenting in English by Mark Powell.
Practice
Think of a meeting you had where you faced difficult questions, now think of new answers. Then practice saying them.
Want my feedback? Put your examples in the comments box below or email me at info@englishtco.com or chris@englishtco.com.
————–
My Top Tip Recommendation:  How you can help other professionals follow what you say in English
————–
Help a colleague
If you think a colleague or friend would find this post really useful, please share it with them via email or social media.
See you soon! / ¡Hasta pronto!
Christopher
The English Training Company
Feel good – speak, meet and present in English with confidence!  
————–