Meetings in English Discussing A Problem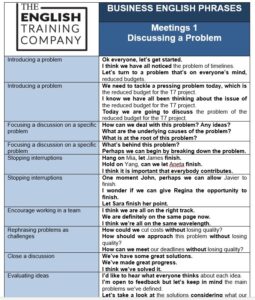 (**Download the pdf here, 'Meetings in English Discussing A Problem' Meetings in English_Discussing a problem)
Meetings in English – Discussing a problem.
Structured meetings can be useful to discuss and solve problems.
What do you think is important to include when discussing a problem in English?
?? Here are some techniques and a Business English phrase sheet from our training to help you:
✅ Introducing a problem
✅ Focusing a discussion on a specific problem
✅ Stopping interruptions
✅ Encourage working in a team
✅ Rephrasing problems as challenges
✅ Evaluating ideas
✅ Expressing negative opinions with a reason
✅ Eliminating ideas politely
✅ Confirm best option
✅ Close a discussion
(**Download the pdf here, 'Meetings in English Discussing A Problem' Meetings in English_Discussing a problem)
———-
The English Training Company, we help companies and professionals to become Advanced Business English Speakers.
Get our free Business English eBook and top resources, sign up to our popular Business English newsletter at www.englishtco. com
#speakingconfidence #businessenglish #businessenglishcourses #training