Make Small Talk In English With Confidence – Keep The Conversation Going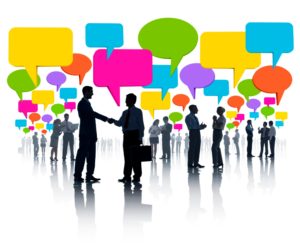 Make small talk in English with confidence! Keep the conversation going in English.
Make small talk in English with confidence – which is easy said than done for  most people! Most people get nervous speaking to people they don't know in their own language and even more in another language like English. I know I used to when making small talk in Spanish! 'Small talk' wikipedia definition.
In my popular video below I show you three quick techniques and give you the Business English vocabulary to make small talk in English with confidence!
Watch my popular video (3/4 minutes)  above and read the blog post below.
(More videos – see The English Training Company youtube channel.)
————–
Small Talk in English – How to keep the conversation going in English
1) Ask Good Open Questions
-"Which talks/presentation have you enjoyed most?"
-"What do you think of the event so far?"
 2) Listen And Show Real Interest
-"Mmm. Yes I see exactly what you mean."
-"True. I see what you´re saying."
-"Is that right. I hear Paris is beautiful this time of year."
-"Really. That must have been really interesting."
3) Changing the subject
-"That reminds me. Haven't I heard somewhere that you play golf"
-"Didn´t Richard say that you play golf."
-"While we´re on the subject of finance, what do you think about the recent corporate tax law changes?"
-"Speaking of summer, how is the 3Q (third quarter) going?"
-"Before I forget, how did the new product launch go?"
-"By the way did I tell you we´re going to the WMC Conference in Singapore."
#TIP 1: The goal is to focus the spotlight on the other person and let them do 70% of the talking.
#TIP 2: To sound natural when speaking, ask questions AND REMEMBER to answer their questions and make comments or observations about what the other person says. Only asking questions sounds like a police interview and not a natural conversation.
#TIP 3: Active listening tip. To show the other person that you're really listening I suggest this:  smile, make good eye contact, move your head to one side and use quick phrases like "I see what you mean", "I know what you mean", "that's right", "how interesting" and "I´d like to do that" and "I´d like to try that".  
————–
Download the Business English phrases – Small Talk 4_Keep The Conversation Going_Business English phrases
————–
Recommended post – my top tip 'Presenting in English – Practice faking it, acting it and becoming it!
————–
**Practice Activity
Think of a situation where you had to make small talk in English and keep a conversation going with someone you didn't know.
————–
Help a colleague
If you think a colleague or friend would find this post really useful, please share it with them via email or social media.
See you soon! / ¡Hasta pronto!
Christopher
————–