How To Save Time Preparing Presentations In English (and do them better!)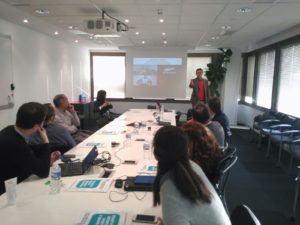 (Here I am giving a 'Presentations in English' workshop :))
Hi this is Christopher your Business English Trainer from The English Training Company. How to save time preparing presentations in English (and do them better!) is today's blog post topic.
I'd like to ask you a question, how long does it take you to prepare a presentation in English? It could be for a monthly meeting, conference call, business event or scientific congress.
Probably more time than you'd like!
Well today, you'll learn how to save time and create a better presentation in English. Let's get started!
How To Save Time Preparing Presentations In English (and do them better!)
Let me share with you my top tips on how to save time preparing presentations in English.
———
Starting point – why should your audience listen to you?
The first thing is to think about your audience and focus 100% on them. I ask myself three questions about the audience.
— what is important to them?
— why should they listen to me and not someone else?
— what is my 'take away message' I want them to leave with (remember)?
This will help you have a laser-like focus and avoid including too much information (irrelevant information), which is something I know I'm guilty of (say my friends) and it's a work in progress for me.
Pen & Note Pad (10 % of your time)
Here is a quote by US President Woodrow Wilson, "If I am to speak ten minutes, I need a week for preparation; if fifteen minutes, three days; if half an hour, two days; if an hour, I am ready now."
Sounds crazy, but good preparation with a pen and paper saves you a lot of time because it enables you to be concise. And by being concise you'll save even more time when you get down to creating your PowerPoint slides.
Good preparation:
— brainstorm your ideas (I use mindmapping because I'm a very visual person)
—organise your ideas (does it make sense for your audience and you?)
Structure
Structure, even a simple one will help you save time. Here is a quick tip involving the number three:
3 parts to every presentation: every presentation can be divided into three parts: opening, main body and ending.
3 main body structures. Here are three of the most popular structures used in business:
—chronological (put things in order of time etc.)
—problem and solution
—main topic and sub topics
Change The Chip Into English (CSC Communication)
I get asked a lot, "how can I change the chip into English?". Personally I think this is hard to practice 24/7 (24 hours a day, 7 days a week), but it's definitely doable for key moments during your working day.
How? Use your CSC communication checklist (CSC – clear, simple and concise)
— Is it clear?
— Is it simple?
— Is it concise?
And if your communication ticks all these three boxes, then you've succeeded in changing the chip into English (well done!!)
Write A Script (20 % of your time)
Yes, you heard me right, write your script. Yes write it!! My company and I've have helped and coached thousands of professionals and I'd say 98% of our clients write scripts for their presentations in English.
And when you ask why, the answer is it just helps them feel more comfortable and confident in English. I think, like actors, it also helps you to internalise your speech so it feels 100% your speech.
Which later helps you to read less, present better and really connect with your audience – which your audience will thank you for!!
Plus if you write your script you can always ask for correction and feedback from English speaking colleagues and a Business English trainer.
Signposting Language
No and I don't mean driving using signposts instead of your GPS (I used to get lost all the time before GPS).
Signposting or signpost language in  English  means helping your audience to easily follow your presentation's ideas. And to move from point to point – known as transitions.
Use things like "moving on" , "my first point…" and "to sum-up…". Your audience will thank you and you won't´ leave anybody behind during your presentation.
Signposting + pauses + increased volume = dramatic effect
Signposting has a big plus, it allows you to introduce each one of your main ideas with dramatic effect.
For example,
SAY "Now, let's move on to…(pause 1-2 seconds for dramatic effect) ….SHOW SLIDE and SAY TOPIC TITLE "The difficulties of ecological labelling to attract shoppers' gaze."
1st Practice (25% of your time)
Like actors reading their lines, practice is key to the final show.
Now you feel comfortable with your script and the organization of your ideas, practice.
Read your script out loud a few times, try standing up as well, so it sounds familiar and you get the feel of your presentation (aka by actors as  internalising it).
Give yourself feedback.
—if your ideas feel disconnected and your transitions (signposting) are awkward, change them. Your goal is to make your presentation very easy to follow.
—And then read it again.
Presentation Zen Slides (20% of your time)
At last, you can play with PowerPoint slides! I'm a big fan of 'Presentation Zen' (Garr Reynolds) and in his books his slides cleverly combine fonts, colors, white space, images and slide backgrounds in such a simplistic and powerful 'Zen' way. Get inspired by some of his slides. Sorry, I get excited about creating presentations sometimes.
Creating slides is one of your last steps. Once you know what you want to say (brainstorming) and you've ordered it, you will only create the slides you need.
2nd Practice (25% of your time)
Your slides are ready so it's time to practice again. Like actors reading their lines, practice is key to the final show.
But this time practice it without your script. Here you can use notes to guide and to help you remember. Each time try to look at the notes less and less.  Sometimes these notes are written on cards known as "presenter notes", make sure you number them in case these cards get mixed up.
Practice, practice, practice
"The more I practice, the luckier I get" – Gary Player
Wow, more than 50% of your preparation time is practising. Why? Because practice is by far the best way to be sure you sound good and feel confident speaking English!
What about you?
How often do you give presentations in English? Tell us about a good presentation you did in the past in English. I´d love to hear from you.
I hope this helps in your job and professional career, Christopher!
Practice
Think of a meeting you had where you faced difficult questions, now think of new answers. Then practice saying them.
Want my feedback? Put your examples in the comments box below or email me at info@englishtco.com or chris@englishtco.com.
————–
My Top Tip Recommendation:  How you can help other professionals follow what you say in English
————–
Help a colleague
If you think a colleague or friend would find this post really useful, please share it with them via email or social media.
See you soon! / ¡Hasta pronto!
Christopher
The English Training Company
Feel good – speak, meet and present in English with confidence!
————–