Emails In English – Four Quick Ways To Ask For What You Want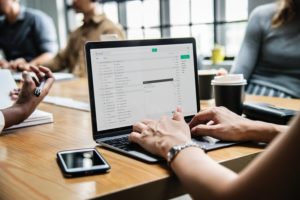 (photo credit: https://unsplash.com/@rawpixel)
Emails In English – Four Quick Ways To Ask For What You Want
Great examples for emails in English, four quick ways to ask for what you want.
Four quick ways to ask for what you want in the areas of: 
INFORMATION
ACTION
HELP
APOLOGISE
———-
1) Information:
Can you let me know/tell me your availability?
Could you send me more information about the airport transfer?
I´d like to know if there are still seats on the 9.20 flight to Paris.
I need to know how many people will be attending the meeting.
Thanks in advance for your help
2) Action
Would you mind sending me the report as soon as you can?
Do you think you could bring your laptop to the meeting?
I'd like you to call Henry to confirm tomorrow's meeting.
Please make sure you leave the file with Jane before you go to Barcelona.
I need you to prepare the powerpoint slides before the end of the week.
I'll meet the visitors at reception.
3) Help
Shall I make a reservation for lunch?
Why don't I call him and postpone the meeting to give us a bit more time.
Let me know if I can do anything to help.
Would you like me to bring you anything from the cafeteria?
Can I ask you to confirm your attendance at your earliest convenience?
That would be great/extremely helpful, thank you.
4) Apologise
I am writing in relation to your recent complaint.
I was very concerned to learn about your delayed order.
I would like to apologise for the inconvenience you have suffered.
Can you leave this matter with me and I'll get back to you today.
We have looked into the matter and can assure you it will not happen again.
Once again, I hope you will accept my apologies for the inconvenience caused.
———-
More posts – Emails in English
———-
———-
I hope this helps you with your professional English and in your professional career, Christopher!
The English Training Company – we help companies and professionals to become Advanced Business English Speakers and make their mark!