Better Conference Calls – Top Tips For Native English Speakers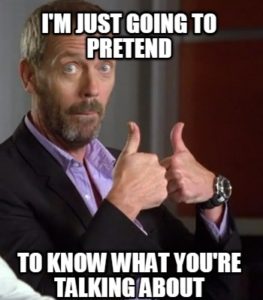 Better Conference Calls – Top Tips For Native English Speakers.
I'm a big fan of the TV series 'House' so this internet meme of Hugh Laurie is perfect for this blog post.
"Umm I´m not following you", "Maybe…" "I'm not sure about that…,"I don't really understand…", "No we don't have all the answers for…", "I'm not sure we're on the same page…".
Better Conference Calls – Top Tips For Native English Speakers
These all expression and words we've heard in conference calls that mean "we or other people were totally lost" and all because of miscommunication or just simply poor communication.
And you'd be surprised (or not 😉 , usually it is the fault of the native English speaker.
In our Business English training at TETC we´re constantly told by non native English speakers that the worst conference calls are with native English speakers.
So I'm making a stand!!!!
Make life easier and give these top ten tips to native English speaking colleagues!
Here are my top 10 tips:
Better Conference Calls – Top Tips For Native English Speakers
Project Your Voice:  Articulate what you say, speak clearly, project your voice and speak comfortably. Soften your accent, not everyone understands Glaswegian (the dialect/accent of people from Glasgow, Scotland)
Don´t overuse fillers: "Um", "yeah", "uh huh", "ok", "right", "get it": Be careful not to overuse "fillers" as it can confuse and distract people´s concentration.
Moments of silence: Have moments of silence (2-3 seconds) for other people to understand and digest complex ideas and information. Don't overuse it as too much silence can be uncomfortable!
Slow down and pauses: Not everyone will have the same English level so try to speak slower. Also use pauses after key ideas or points to give non-native speakers an opportunity to understand before continuing.
Are we on the same page: Check from time to time and to see if everybody understands and is on the same page.
Encourage everybody not to be scared to ask: No it's not your English level, often native English speakers speak too fast without realising. Encourage your colleagues to be proactive and use things like "I didn't catch that", "I didn't follow that" , "can you explain it in a different way?" "can you repeat that?".
Agenda points: Don't mix them or move to fast to the next agenda points: For each agenda point,it is important everyone participates, follows the conversation and understands key ideas. If you mix agenda points or move too quickly to the next agenda point you´ll lose the participation and engagement of some of the participants.
Plain and Simple English: Non-Native English Speakers are quick to blame their English level. During conference calls all native and non-native English speakers need to be reminded to use plain and simple English when communicating internationally.
Company Acronyms and Jargon: Not everyone inside or outside your company understands your company´s acronyms and jargon. Your options are either to check people´s understanding of Acronyms and Jargon or avoid excessive use. There´s a reason why the game "Jargon Bingo" became popular in many offices.
Change the Chip to CSC Ideas: Make sure your ideas are communicated clearly, simply and concisely.
I hope this helps you with your job and professional career, Christopher!
————–
My Top Tip Recommendation:  How you can help other professionals follow what you say in English
————–
Help a colleague
If you think a colleague or friend would find this post really useful, please share it with them via email or social media.
See you soon! / ¡Hasta pronto!
Christopher
The English Training Company
Feel good – speak, meet and present in English with confidence!  
————–