4 Week Speaking Challenge! & Program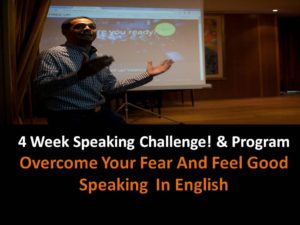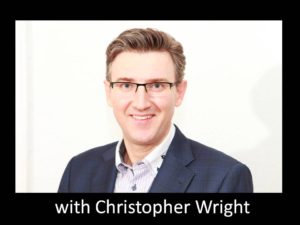 Want to improve your speaking in English, but embarrassed by the mistakes you might make?
Find it difficult to get regular speaking practice and good feedback?
Get blocked when speaking and presenting in English?
Boost your speaking confidence in just 4 weeks! Better speaking = Better English = Better opportunities.
---
4 Week Speaking Challenge! & Program
Overcome Your Fear And Feel Good Speaking And Presenting In English!
——–
4 Week Speaking Challenge (Free)
The '4 Week Speaking Challenge' is an opportunity for you to regularly practice speaking in English to build a consistent habit that really increases your confidence and fluency.
If you can commit to doing and recording 1 speech each week, then each week you will make small improvements that add up.  And regular practice helps bring about real change and noticeable progress.
The challenge is:
do 5 video speeches (1-3 minutes) in 4 weeks
make video recordings of yourself and share them to get feedback (in a private community)
for your first speech – receive 1 video coaching feedback from me, Christopher Wright
The challenge will help you to:
boost your speaking confidence in English = better opportunities
stop getting blocked and achieve more fluency
project a good professional image
understand better your speaking strengths and weaknesses
5 Speeches:
Email 1 / Speech #1: How To Introduce Yourself In One Minute In English At Events
Email 2 / Speech #2: CSC Speaking in English
Email 3 / Speech #3: Use your vocal power
Email 4 / Speech #4: Be authentic, be yourself
(BONUS) Email 5 / Speech #5: Persuasion
Speech Evaluation Criteria  (Example Speech 1)
(Marks: 9-10 excellent: 7-8 good: 5-6 pass: 4-1 fail)
Use of English – vocabulary & grammar (out of 10)
Clear, simple and concise ideas (out of 10)
Confident delivery when speaking (out of 10)
Body language – be relaxed and professional (out of 10)
Project your voice (out of 10)
——–
Want more support, speech examples and 5 coaching feedbacks? = The Program
---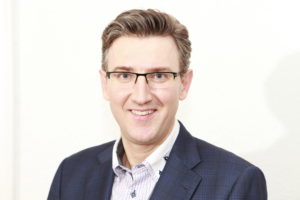 With Christopher Wright
My name is Christopher Wright, I´m Co-Director at The English Training Company (TETC) and a Business English Trainer with over 10 years experience.
Business English + Public Speaking
Also as a highly experienced speaker and ex-president of Toastmasters (public speaking organization in over 142 countries) I've given over 80 speeches in English and over 120 workshops. In 12 years as a Trainer I've helped thousands of professionals to become more confident and effective when speaking and presenting in English.
I´ve also had several book and articles published by Amazon, Oxford University Press and McGraw Hill.
TETC clients: Airbus, Amazon/Buy VIP, Google, Técnicas Reunidas, Iberdrola, Persei Vivarium and lots of other SMEs.
---
---
What participants say:
 "I really appreciate the speech structures that we have worked on. This helps me a lot when I have to speak in meetings." – Sara, Senior Manager, Iberdrola.
"This training was no standard English course, it totally was about building confidence and speaking practice. I was really impressed about Christopher's skills and coaching in this area." - Carlos, Business Development, NetApp Spain
---
ESSENTIALS PACK = €39.95 - receive *3 video coaching feedbacks from Christopher (*4 week time limit) Get it now!
COACHING PACK = €49.95 - receive *5 video coaching feedbacks from Christopher (*4 week time limit) Get it now!
2 BONUSES INCLUDED (WORTH €20)!! (+ 'Presenting in English 750 phrases' ebook + audio: + 'Better Business English: 60 Quick Techniques' + ebook + audio)

---
My Guarantee
Do you still have hesitations? Don't worry, I want you to be sure this program is for you.
Here's my simple guarantee: Do the program for 4 weeks and the 5 speeches and if you don't see noticeable progress, I'll refund 100% of your money for either the Essentials Pack or the Coaching Pack.
When you learn with someone, it's important to feel good about the relationship. I put all of my passion, teaching experience, and fun energy into my programs, because I want you to feel good speaking and presenting in English. More than 32 people have taken the program. How many people asked for a refund? Zero.
And it works. Join the program, and see for yourself.
---
FAQs
How much does it cost? The '4 Week Speaking Challenge' is free and it includes 1 expert coaching feedback. The program (paid) offers a lot more - speech examples, support and 5 coaching feedbacks.
What English level do you need to participate? Learners with a B1 or B2 or C1 English level see the most noticeable progress and the best results.
How do I record my video speeches? - Each speech has a code, enter and then the program uses your laptop o smartphone camera to record your video speech for each speech topic. We recommend using earphones with a microphone.
What if I only want to record audio speeches and not video speeches? - That's fine, just cover your video camera and record the audio. We will give you feedback on your speech but not body language.
What happens if I can't complete the 4 weeks challenge? - You can join next month's challenge.
Are their deadlines? Yes there is a 4 week deadline for submitting your video recordings and coach feedbacks.
---